AAMA 40th Anniversary Gala
AAMA 40th Anniversary Gala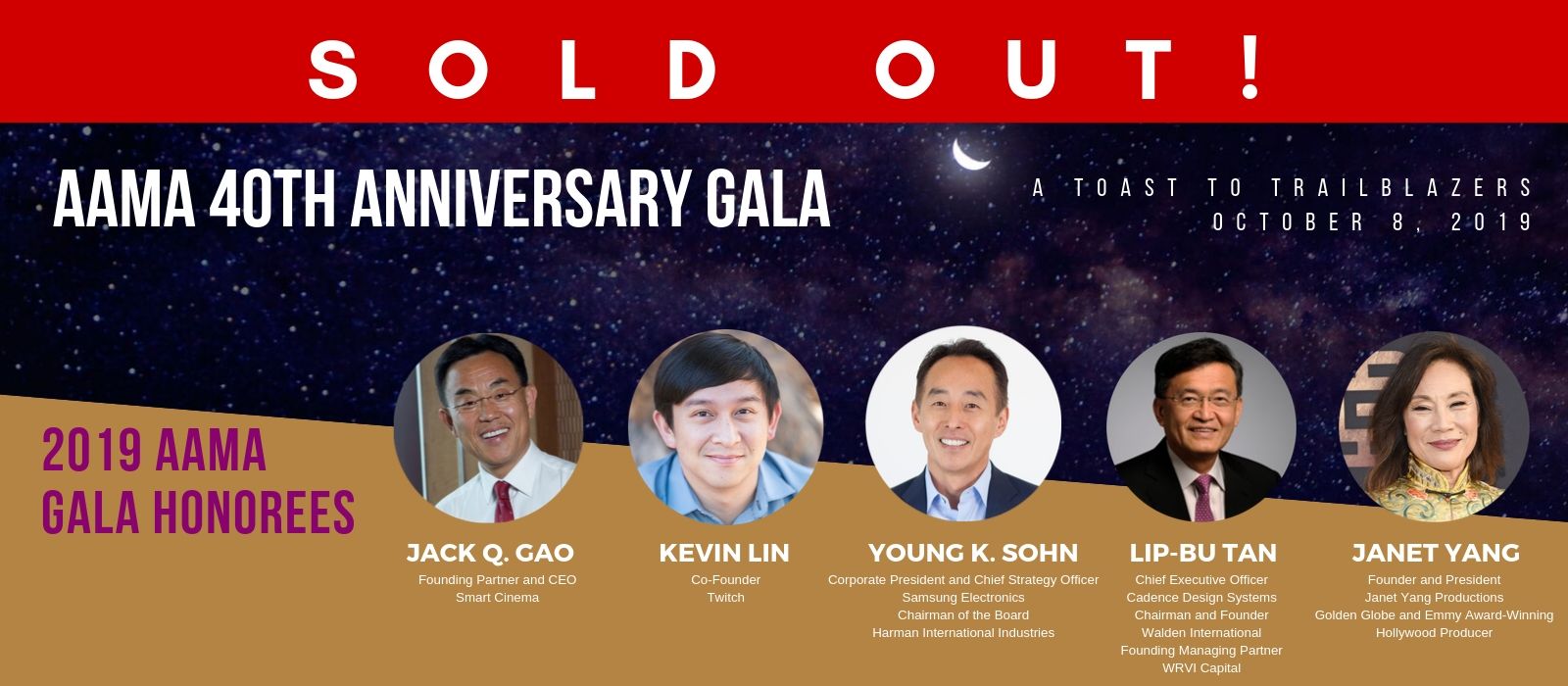 AAMA 40th Anniversary Gala - October 8, 2019

.

.
AAMA 40TH ANNIVERSARY GALA
A TOAST TO TRAILBLAZERS
JOIN US IN CELEBRATING 40 YEARS OF AAMA! 
Picture this . . . You're looking fabulous in your elegant best, sipping a glass of Prosecco at the exclusive The Peninsula Golf and Country Club in San Mateo. The champagne is flowing, the steak is sizzling, and the chandeliers above are sparkling. The night is young. More than 200 tech titans from Silicon Valley are celebrating 40 years of AAMA, the largest pan-Asian technology association in the world.  Will you be part of the magic?
.
This black-tie optional, exclusive event will gather titans of tech in the Silicon Valley to celebrate 40 years of AAMA. It will feature a VIP reception, cocktail reception, formal dinner, and ceremony recognizing the achievements of our honorees.
.
...
.
..
.
..
When AAMA decided to honor trailblazers for our 40th Anniversary Gala, we thought about the qualities that defined their success. Making the decision to carve out a different life path demands vision. Continuing to pursue that path year after year takes courage and relentless commitment. These are the values that have fueled AAMA's progress since 1979.
.
Join us on October 8 in honoring five extraordinary trailblazers that never stop dreaming, innovating and bringing their ideas to life.
MEET OUR HONOREES:
Founding Partner and CEO of Smart Cinema, the app that will turn hundreds of millions of mobile devices into mini movie screens.  Already attracting press coverage, Smart Cinema could massively expand the Chinese box office and disrupt the traditional exhibition system in China.
Cofounder of Twitch, the world's leading live streaming platform for gamers.  Amazon bought Twitch for $970 million in cash in 2014, and Twitch is now expanding into scripted programming with an interactive twist.
Corporate President and Chief Strategy Officer at Samsung Electronics, where he leads development and strategy for global innovation and new business creation.
Chairman Of The Board at Harman, a global leader in connected car technology, lifestyle audio innovations, design and analytics, cloud services and IoT solutions.
CEO of Cadence Design Systems, a multinational electronic design automation software and engineering services company that helps customers develop differentiated products in mobile, consumer, cloud datacenter, automotive, aerospace, IoT, industrial and other market segments.
Chairman of Walden International, a US venture firm that specializes in cross-border investments.
Founder and President of Janet Yang Productions, Golden Globe and Emmy Award-Winning Hollywood Producer known for producing The Joy Luck Club, The People vs. Larry Flynt and many more.  Named one of the "50 Most Powerful Women in Hollywood" by the Hollywood Reporter.
.
.
.
.
.
LIMITED EVENT SPONSORSHIP OPPORTUNITIES AVAILABLE 
We invite you to join us, support AAMA, and reserve your place at the Anniversary Gala through leadership sponsorship. Priority seating consideration is given to sponsors based on first-come, first-served basis.  To reserve your sponsorship spot, please contact Lisa M. Lum at lisa@aamasv.com
.
.
Photographs and video will be taken at the event.
By taking part in this event you grant the event organisers full rights to use the images resulting from the photography/video filming, and any reproductions or adaptations of the images for fundraising, publicity or other purposes to help achieve the organization's aims. This might include (but is not limited to), the right to use them in their printed and online publicity, social media, and press releases.
If you do not wish to be photographed, please inform us at hello@aamasv.com
.
AAMA's 30th Anniversary celebration video "Three Decades of Transformation in Silicon Valley | Our Story" is a collage of stories from each generation of Asian Americans who have and are transforming Silicon Valley, of their immigration experience, changing landscape and faces, and attraction to entrepreneurialism and risk taking, the hallmarks of what makes Silicon Valley unique.
.
.
.